How to build a Simple Homemade Water Distiller that turns dirty water/salt water into clean fresh pure water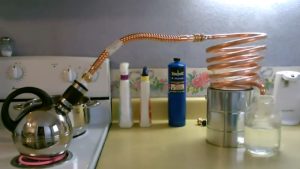 [the_ad id="6432″]
This video shows the build of a "pure water" Water Distiller that easily turns dirty water/salt water etc… into clean fresh pure water. This produces lots of clean water fast. Made from close to 12 feet of copper tubing along with a few fittings (optional stainless steel tube shown as well). video contains full instructions on how to build it. Early testing shows it produces about a quart in 1.5 hrs (and half gallon in 2.5 hrs). note that i soldered on the copper fitting. If you don't have a torch, they sell "push on" fittings that require no soldering. *if soldering, remember to use "lead-free" solder.The process is simple. It boils water and creates steam.
The steam rises without bringing any of the impurities along with it. The steam travels through the coils and slowly cools and condenses. It finally condenses back to its liquid form and drips out as clean water.
Watch the DIY Deluxe Pure Water Distiller build
DIY Video:How to build a Simple Battery Backup Power Station for Off Grid Living

This video shows the build of a simple battery backup power station that will provide emergency power when the lights go out.If you're ever faced with living off the grid, a simple system like this could mean the difference between success and failure. Someday you may find yourself in the dark. Having a backup power station could dramatically increase your comfort level .This is a simple setup that is just as easy to get up and running. It's a great solution for anyone that is interested in having a backup power source the event of a blackout. It's always better to be prepared for situations like these

Watch the Homemade emergency Battery Backup Power Station Build

DIY Video : How to build a Homemade Solar Powered Copper Coil Ice-Chest Air Cooler

This video shows the build of a Homemade AC Air Cooler.it's a combination of the standard ice-chest air cooler and a copper coil fan cooler - all in one,combined to make an ice/cold water air cooler!This one is 100% Solar powered.All you need is ice/cold water and sun and you got "free" cool air.The basic materials needed to make this project are Fan, 2" pvc pipes, copper tubing, 2 15w solar panels, 12v DC pump.The rest of the materials needed are shown at the end of the video.

Watch the DIY Homemade Copper Coil Ice-Chest Air Cooler Build

How to generate Free and Emergency hot water for your house by building a Waste Oil powered water heater

This Video shows the build of a water heater from an old gas hot water service and converted it to run on waste oil instead of gas.The system could easily be set up in an off grid or prepper type location as it only needs a small amount of 12V power to supply the car blower I used here. The burner runs on any waste oil and is gravity fed without the need for Nozzles, pumps or compressors. As well as providing Domestic hot water, the output can also be used in a home heating system which is what I plan to set up for my home this winter.It could also be used for an outdoor shower, to heat water for animal troughs, to heat a spa or small swimming pool or other uses to replace gas or electric how water heating.
---