How to build a Simple Homemade Water Distiller that turns dirty water/salt water into clean fresh pure water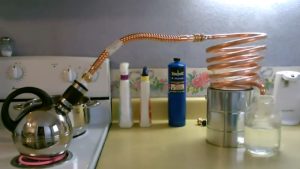 [the_ad id="6432″]
This video shows the build of a "pure water" Water Distiller that easily turns dirty water/salt water etc… into clean fresh pure water. This produces lots of clean water fast. Made from close to 12 feet of copper tubing along with a few fittings (optional stainless steel tube shown as well). video contains full instructions on how to build it. Early testing shows it produces about a quart in 1.5 hrs (and half gallon in 2.5 hrs). note that i soldered on the copper fitting. If you don't have a torch, they sell "push on" fittings that require no soldering. *if soldering, remember to use "lead-free" solder.The process is simple. It boils water and creates steam.
The steam rises without bringing any of the impurities along with it. The steam travels through the coils and slowly cools and condenses. It finally condenses back to its liquid form and drips out as clean water.
Watch the DIY Deluxe Pure Water Distiller build
DIY Video :How to heat your Home by building an Smokeless Outdoor Wood Boiler from Start to finish

This video series shows the build of a smokeless wood burning boiler from start to finish.It is built from a old hot water tank and a small air compressor tank and costs next to nothing to build.The first video of the series  will show the construction of the boiler itself. The next video will detail how to hook it up to a pump and exchanger to bring the heat inside. The final video will show modifications I make to the stove to make it even more efficient.

Watch the build of a Homemade Smokeless Outdoor Wood Video Series

DIY Video : How to build an Off Grid DIY 12 Volt Washing Machine from junk parts and pieces laying around

This video shows the build of a homemade 12V washing machine made from junk parts and pieces laying around.Most of the materials you'll need can be found around your house and most certainly at your local hardware store.Great for going off grid for a while preparing to be survive in case of SHTF or are you just a regular old camper that needs clean clothes at camp.Laundry has come up a number of times as a self-sufficiency topic. It makes sense for a couple reasons. First of all, because many people in our crowd are wanting to be self-sufficient of the electrical and water grids, and need find another way of washing clothes. Secondly, because we are also usually looking for ways to save money.

DIY Video:How to recycle scrap metal in the backyard by building a simple Mini Metal Foundry from start to finish

This video shows you how to recycle scrap metal in the backyard, with a homemade, Mini Metal Foundry.Depending on where you get, or find, your materials the cost can range anywhere from $5-$25 per unit. With the materials I used, I was able to make 2 units for under $40 ($20 each).Even on the high end, this is probably one of the cheapest, reliable, backyard foundries that can be made.I used mine to melt soda cans, and extract the aluminum for future metal casting projects. All the soda cans came from a local recycling depot.
---