How to build a Dirt Cheap Waste oil Barrel Heater .Easy to make and also doubles as a cooker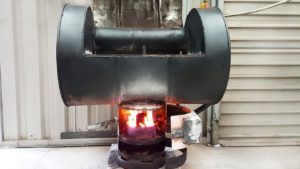 This video series shows the build of a easy to build and inexpensive Waste Oil Heater which can be used for heating your garage.I am using my own waste oil burner design in this heater and it will be burning waste motor and waste vegetable oil as a fuel source.Free heat is easy to achieve from waste oil and if you can't weld it is possible to bolt this all together with just a little resourcefulness.This stove design will allow me to make changes to the waste oil burner unit in a modular way.This free heat shed heater works great as a heater and it's possible to even cook on this. Making lots of heat for free is really easy.
Watch the DIY  inexpensive Waste Oil Heater /Cooker Build series
DIY Video : How to build a DIY Pex Coil Solar Thermal Water Heater. Simple and Efficient!!

This video shows the build of a Simple Pex Coil Solar Thermal Water Heater.asy DIY! No Soldering, Clamps, Crimp Rings, Glues, Unions, or that expensive crimping tool! in my design it's just 2 push-to-fit "shark-bite" connectors! (located outside of collector) and because it's all one piece of tube, the unit has no potential internal leak points.PEX is sturdy, tough and rigid. water temp rating range... 33F to 185F-200F (93°C) water! ...and if temps hit or fall below 32F (0°C) it's freeze damage resistant! it'll freeze but doesn't break. the connectors are made to last at least 25 years and pipe is rated 50+ years.

Watch the DIY Homemade Solar Thermal PEX COIL Water Heater Build Video

How to build a super Efficient Wood Burner from start to finish .No smoke and Clean Burn

This Video series shows the build of a wood burner/heater from an gas cylinder from start to finish.The video begins by explianing the cutting of flue /ash pan hole in top and bottom. Main materials from the local scrapyard made new.Then door is cut out, door frame built,secondary air pipework,flue deflector plate.The next in the series shows the fitting flue deflector plate,drilling bending and fixing the les,grinding all old welds off, making lifting handles,flue outlet and drilling the secondary air intake hole,making the door hinges,cutting hole out for glass in door,welding secondary air intake pipes in.The series ends with making the secondary air intake,door frame welded,primary air damper built and welded on.A Test burn is shown at the end.

Watch the build of a Homemade Efficient Wood Burner from scratch

DIY Video: Generate power from slow moving streams and rivers that have no speed or head by building a Hydrofoil Hydroelectric Generator

This NEW Hydroelectric generator design uses a Hydrofoil and a simple flywheel to create hydroelectric power from otherwise unusable water flows. This design will produce power from slow moving streams and rivers that have no speed or head, it also allows us to produce power without making a dam. This will open up a whole new product line for hydrofoil powered slow water flow based hydroelectric generators.
---