How to build a Dirt Cheap Waste oil Barrel Heater .Easy to make and also doubles as a cooker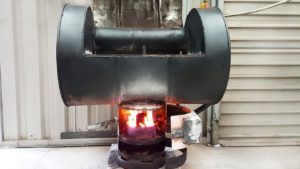 This video series shows the build of a easy to build and inexpensive Waste Oil Heater which can be used for heating your garage.I am using my own waste oil burner design in this heater and it will be burning waste motor and waste vegetable oil as a fuel source.Free heat is easy to achieve from waste oil and if you can't weld it is possible to bolt this all together with just a little resourcefulness.This stove design will allow me to make changes to the waste oil burner unit in a modular way.This free heat shed heater works great as a heater and it's possible to even cook on this. Making lots of heat for free is really easy.
Watch the DIY  inexpensive Waste Oil Heater /Cooker Build series
DIY Video : How to build your own DIY off grid / grid down Solar Power Back up system from scratch .Complete Video instructional for Beginners.

This video shows you how  to build your own heavy-duty solar power energy system in your own home. This guide will show you the basic setup of a solar powered system from start to finish. The best part about this tutorial is that it is scalable. No matter what type of solar panels you are starting out with, you will be able to replicate this and make it work for you. We recommend adjusting the size of the charge controller, inverter, and batteries in according to the solar power what is that you have. Read below to find out how you can make your own solar power energy system yourself.DIY Solar power may seem like a daunting task. Fear not, this video WILL set you on the right path. We start by unraveling the mystery of off-grid solar power and teach you the basics, how to understand and think about your system.

Watch the DIY Homemade Off Grid Solar Power Backup System Build

DIY Video: How to build your own Alaskan Style Homemade Chainsaw Mill from Steel Scraps

This video shows the build of an Alaskan Style Chainsaw Mill from Junk Steel scraps lying around your garage. Compact, lightweight design bolts directly to the chainsaw's bar without much drilling required.The materials you need for building this are :Steel Scraps - You will use these to create the frame of the saw.Welder - To cut and weld in the steel frame together.A Square - To ensure that your frame is balanced with 90° angles.Metal Tubing - Will be used to change the elevation of the cut.Chainsaw - This will serve as the saw for the chainsaw mill.

How to build a Simple,Effective Metal Melting Furnace using Old Steel Container and Ceiling Fan parts. No welding required

This video series shows the build of a homemade cheap metal melting furnace.No welds were required to make this furnace.An old steel container was used for the body of the furnace.Masking tapes was used to provide a visual guide for cutting the furnace with an angle grinder.The container was 13 inch from the bottom.High temperature castable refractory and ceramic insulation were used in order to reduce propane fuel use and to allow for the possibility of melting copper alloys. Most of the materials, besides the ceramic insulation and castable refractory, were salvaged for this build.
---