DIY Video: How to build a Homemade Gravity fed ,Drip Waste Oil Heater for your Garage . Really Efficient…..Good heat.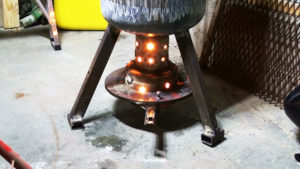 This video shows the build of a gravity fed, drip waste oil burner .This is the one of the simplest design for maximum heat and flexibility .The concept behind this burner is that Oil does not burn, but the fumes it gives off when the oil is boiling.The deeper the pan the harder is it to maintain an efficient boil.A cast iron pan maintains the higher temperature the best and does not threaten to burn through.The secondary holes in the vertical pipe are where the actual burn is occurring.The materials needed for this build are Air compressor tank,Pan that has been burnt for about one and half hour,Oil, like motor oil,Flamer,Chimney pipe (with length of about ten feet).This setup creates a lot of carbon in and around the burning chamber, but does not smoke at all.It will run about 400-500 degree Celsius (at the base) at under or up-to 1L per hour
Watch the DIY Homemade Drip fed Waste/Engine Oil Burner/heater build Videos
DIY Video : How Generate Unlimited Hot water without electricity by building a Homemade Underwater Wood Stove

This video shows the generation of Unlimited hot water  100% Off the Grid without electricity by converting an old propane tank to burn underwater as an immersion heater for a lot of hot water.Here,I use a homemade underwater wood stove to make a lot of hot water in a relatively short time.I also make use of the waste heat to cook breakfast.Almost 75-80 gallons of hot water in 1 hour with wood.Really a great way to heat a lot of water.

Watch the DIY Homemade Underwater Wood Stove Water Heater build

DIY Video:How to build an Easy to make,light,Strong Chainsaw Mill from start to finish.

Harvesting and processing the wood that grows on your property is the dream of many homesteaders. The dream can be expensive (around $5k) because you need a sawmill in order to rip the wood and remove the bark.Instead of spending years saving up, you can spend less by building your own saw mill out of a chainsaw!.This video shows the build of an easy to make,light and strong Chainsaw mill from scratch.You will need some 2mm,3mm square pipes, coarse threads,bolts,spring washers

DIY Video : How to build a Simple and Efficient Homemade Water Distiller for cheap .Great for everyday use or in emergency/off-grid situations.

This Video shows the build of a Homemade Compact ""Counter-Top" Water Distiller which literally cost me nothing to make.It's made with items commonly found around the home, so for many people, it's free to make.This Unit Makes Water Fast!.The TDS (total dissolved solids) in the water used was 575-638 ppm. The unit will purify just about any dirty water and works great for converting saltwater to freshwater.No electric power? use propane stoves, rocket-stoves, campfires, parabolic dishes... anything to get the water boiling.Only use Heavy Duty foil for the trough and make trough as smooth as possible for the best water flow. cooling the "condenser bowl" with cold cloths increases water production dramatically.
---