DIY Video : How Generate Unlimited Hot water without electricity by building a Homemade Underwater Wood Stove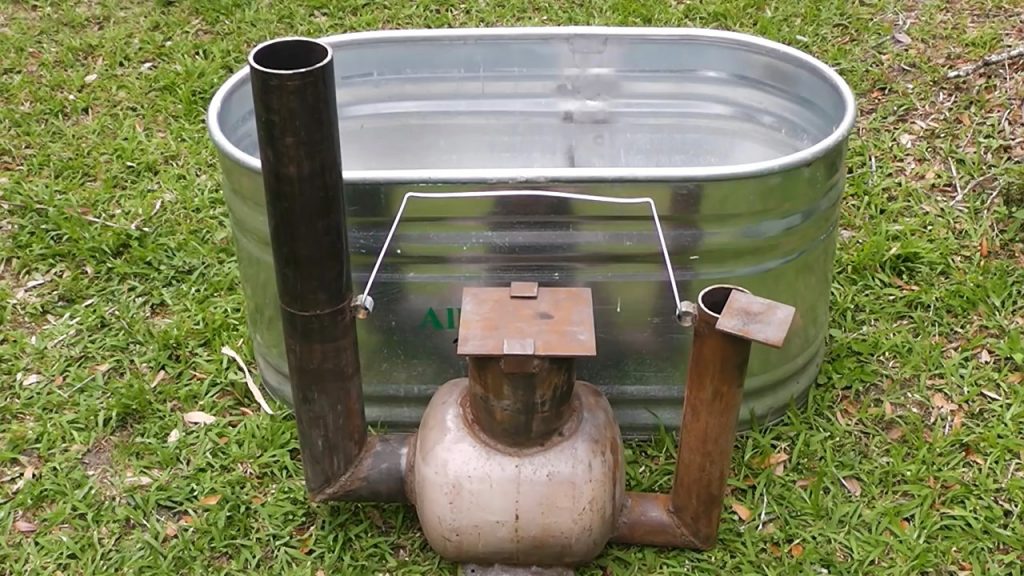 This video shows the generation of Unlimited hot water  100% Off the Grid without electricity by converting an old propane tank to burn underwater as an immersion heater for a lot of hot water.Here,I use a homemade underwater wood stove to make a lot of hot water in a relatively short time.I also make use of the waste heat to cook breakfast.Almost 75-80 gallons of hot water in 1 hour with wood.Really a great way to heat a lot of water.
Watch the DIY Homemade Underwater Wood Stove Water Heater build
How to build a Simple Homemade Wood Burning Clothes Dryer

Living "off grid" poses many challenges for "off gridders", mostly during the short, overcast, dark days of Winter.Having the clothes hung up on racks and lines strung in the basement works, but made it hard to do in the winter.This video shows the build of a  Homemade Clothing Dryer with Heat from a Wood Stove.This is a simple and alternative way to drying your clothes .The Dryer was bought from Ebay for cheap.The outside air gets blown by the heating tube within the wood stove.The hot air blows in the back of the dryer

DIY Video: How to build a Homemade Hot Water Off grid Air Heater using Heat Exchanger and a Car Radiator Fan

This video shows the build of a Homemade Hot Water Air Heater using an old heat exchanger and a car radiator fan.This unit provides near-instant warm air.The Air-Flow: it's adjustable from 10 CFM to 1500 CFM. max breeze 20 Mph! The Temps: With input water temps between 120F to 150F the output air temp ranged from 85F to 110F. *or from heat pump temps up to near furnace temps! easily warms a room or two, maybe more.The heart of the unit is an 8x8 Copper/Aluminum Heat Exchanger., This unit can easily be run straight from a 12v solar panel or battery so it's "off-grid" ready. Simply mounted the fan in front of it,then connected the pipes. then you just connect a small water pump (200-350 gph) to one of the pipes and drop both pipes into a water-filled sink,almost immediately it creates very warm air (in under a minute).

Watch the DIY Homemade Homemade Hot Water Off grid Air Heater Build Video

DIY Video:How to recycle scrap metal in the backyard by building a simple Mini Metal Foundry from start to finish

This video shows you how to recycle scrap metal in the backyard, with a homemade, Mini Metal Foundry.Depending on where you get, or find, your materials the cost can range anywhere from $5-$25 per unit. With the materials I used, I was able to make 2 units for under $40 ($20 each).Even on the high end, this is probably one of the cheapest, reliable, backyard foundries that can be made.I used mine to melt soda cans, and extract the aluminum for future metal casting projects. All the soda cans came from a local recycling depot.
---