DIY Video :How to build a Simple Backyard Water Filtration System from easily available materials .Step by step Video Instructions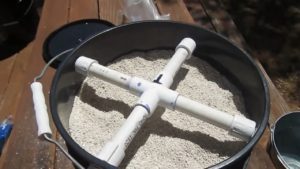 This video shows step by step in detail the build of a simple backyard Water Filtration and purification System .This is a simple type of water purification system that uses sand, gravel, gravity and some simple engineering to purify water contaminated with biologics and some chemicals.As water flows through the filter, physical straining removes pathogens, iron, turbidity and manganese from drinking water. A shallow layer of water sits atop the sand and a biofilm. The biofilm contributes to the removal of pathogens due to predation and competition for food of non-harmful microorganisms contained in the biofilm and the harmful organisms in the water.Turn non-potable water into quality drinking water with this inexpensive Water filter.
Watch the DIY Homemade Bio-sand Water Filtration System Build
How to process your own Firewood by building a Cheap log spiltter made out of Scrap materials

This 3 part Video series shows the build of a hydraulic log splitter for cheap, by salvaging parts you can build a DIY splitter that will help with processing your firewood.  the Total cost was about $400 to build.I had the 6.5 hp motor from another project, I salvaged all of the metal , some of the scrap came from my work.We used our CNC plasma torch on this project and It made quick work cutting out all of the parts, But one could always free hand cut all the parts fairly easily with a torch.

DIY Video:How to build a Homemade Double Barrel Garage Heater out of Old Water Tanks .Efficient,clean burn and cheap!

Having some extra heat in your work place is great, specially if you have some left over wood to burn.These videos shows the build of a Homemade Double Barrel Heater for your garage.He we use two Old Electric Water Heater tanks.The tank on the top acts as secondary Heat exchanger unit.The basic components required for this build are Two barrels,Legs or supports,Jigsaw,Driller,Pipe screws.This is really an affordable alternative for economical heat in your shop during the winter time.Great way to repurpose Old Water tanks sitting out there and make a really useful Barrel Heater out of it

DIY Video : How to Dig a Shallow Well from Scratch.Step by step Video Instructions

This video shows How to dig a shallow well on your property from dowsing to digging to capping. This shallow well will provide water for our bees and supporting plants. This dig uses a modified hand auger and took about 4 hours to complete (17 feet with nearly 4 feet of water).Learning how to dig a well is a good lesson that every prepper should master.Even if it doesn't come to a survival scenario, having your own water supply means that you're basically off the grid. You're not dependent upon third parties.
---