This project goes over the build of a Double Barrel Stove out of two old scrap water heaters for the shop.
STEP 1 : DISASSEMBLE THE HEATERS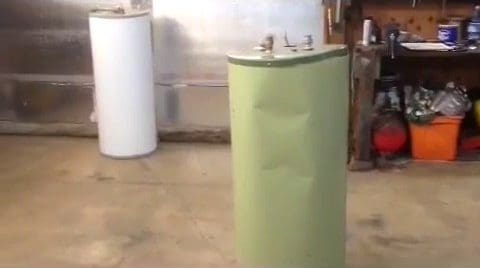 The first step is to disassemble both the old electric hot water heaters to get their tanks out.
STEP 2 : CUTTING THE BOTTOM TANK
Take a grinder and cut a section off from the top of the water heater tank. This tank will become the bottom tank. Remove any calcium and mineral that ends up developing deposits inside the bottom of the tank.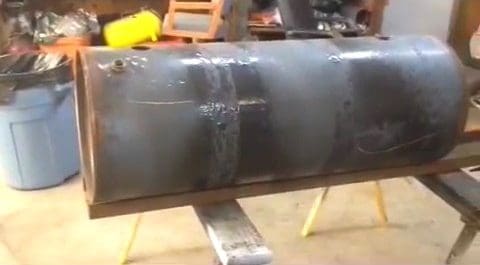 STEP 3 : WELDING  STEEL PLATES ON BOTH ENDS
Take a 12 gauge plate steel and put our top drum upside down and scribe a circle out of them from the end and cut it. Weld the steel piece onto the drum. You need to do the same for the other drum too because, with these double barrels, you are basically making two stoves, just connecting them in the middle.
Now both the top tank and bottom tank ends have been polished and cleaned. Remove any insulations, paints, and glues from them if they have any. Make sure all the rough pieces on the tank are welded on the ground down.
STEP 4 : ADDING SUPPORT STACK
Cut a small piece of pipe that acts as a stack between the 2 tanks.
The next step is to add a small support bracket on the top of the bottom tank that will help support the top tank.
Cut a hole in the bottom tank. This will be where the stack goes between the two of them. Fill the drain plug down at the bottom.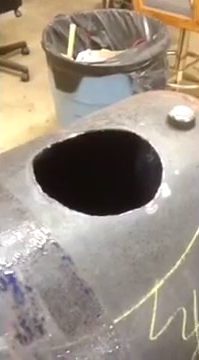 STEP 5 : ADDING AN EXHAUST STACK
Take the top tank, cut, and weld the top exhaust stack that will be six-inch outlet for the smoke.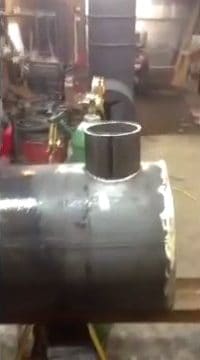 We also add a six-inch inlet that goes up to the top that forces your smoke and the gas has to go across the length of the barrel. The bottom barrel will be connected to this.
STEP 6 :  CONNECTING BOTH BARRELS
Both barrels are welded together, the bottom barrel is welded onto the mid stack which connects the top barrel with the exhaust stack. In order to support the barrels, we take the scrap pipes lying around and make legs as a support structure for the stove.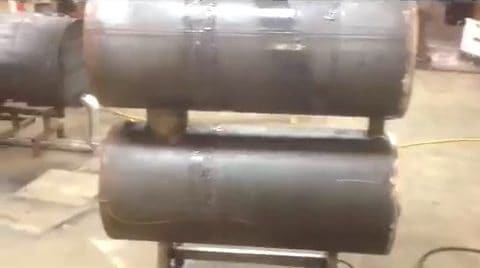 STEP 7 :  DOOR FABRICATION
Next is the door fabrication. We cut a hole for the door in the bottom barrel. A couple of hinges, and door catche are welded onto this end. An air inlet pipe is threaded onto a plate. The whole unit is then attached to the door. A handle is attached to the inlet pipe so you can open and close it whenever you want to control the flow of the air intake.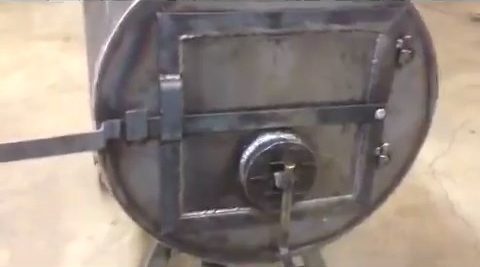 Image Credits : Blaine Porter