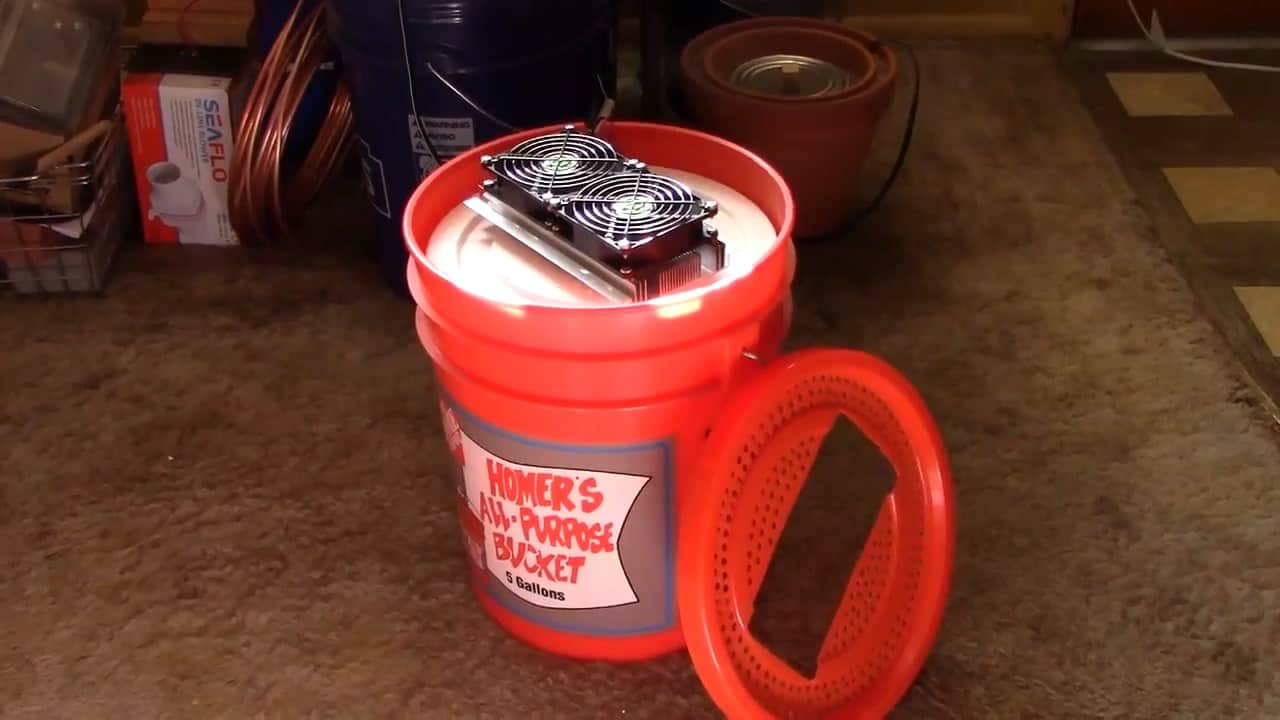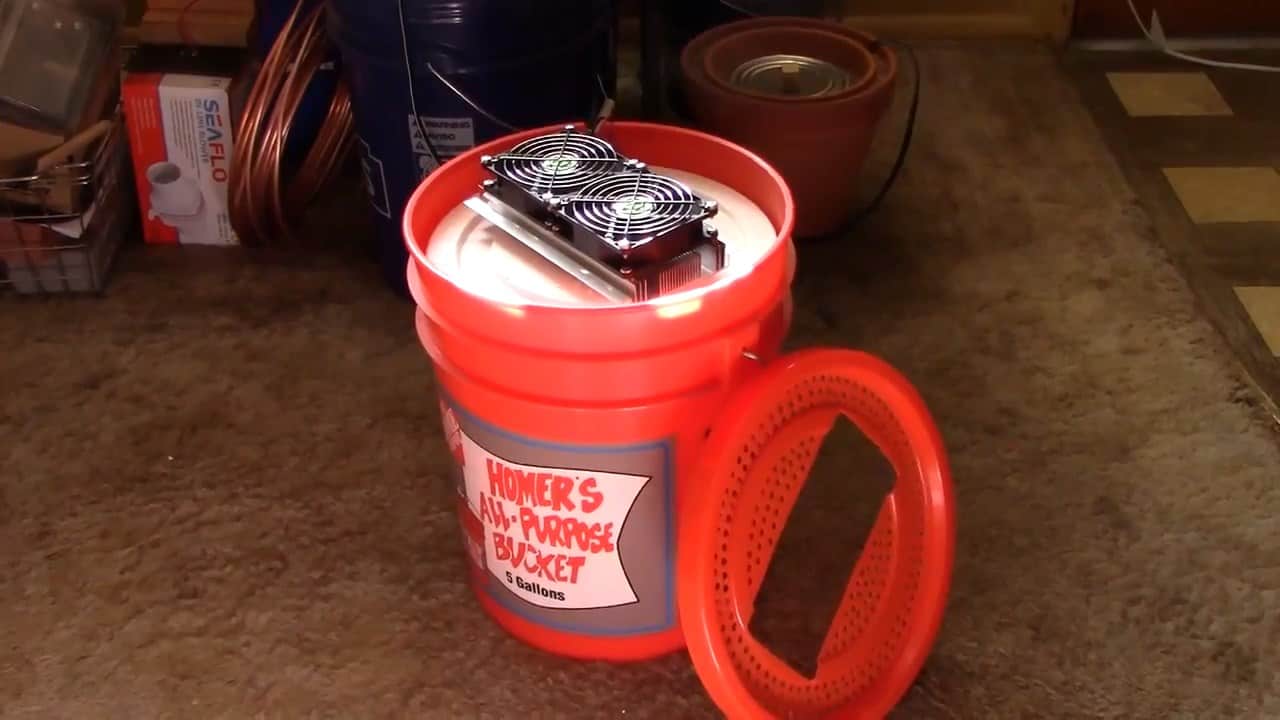 This project goes over the build an off-grid survival fridge using a five-gallon bucket. It has a Peltier cooling module on the top. So no need for refrigerant or ice cubes.
STEP 1 : MATERIALS  REQUIRED
The materials you need to build are as follows. A 12V 12A Thermoelectric Peltier Refrigeration Cooling System unit from Amazon, a 5-gallon bucket , and 4 gallon Styrofoam liner from Home depot.
STEP 2 : ADDING HEAT SINKS AND CPU FANS TO THE PELTIER CHIPS
This refrigerator works by the principle of Peltier effect. The Peltier effect shows that a temperature differential is created when a DC current is applied across two different materials. The Peltier unit is made using two thin ceramic wafers with a series of n and p semiconductor materials sandwiched between them. The ceramic wafers add rigidity and provide the necessary electrical insulation for the module. The n-type semiconductors have excess electrons, while the p-type has a deficit of electrons with one n and one p making up the junction couple that creates the thermoelectric effect. When a DC current is applied to the circuit, the thermoelectric module can work as a cooler or heater depending on the direction of the current. A thermoelectric cooler or tech transfers heat from one side of the device to the opposite side against the temperature gradient creating a cooling effect.
We use heat sinks and CPU fans on the Peltier chips to radiate and lower the heat generated on the hotter side and move the cooler air into the bucket from the cold side. The Peltier setup in this build uses two 12V 92mm fans on the hotter side glued to a large 200m X 100mm Aluminum heat sinks, two 12v 5.8amps Peltier chips are glued under two 40mm heat sinks using thermal paste. 2 40mm fans are also attached to the heat sink.
STEP 3 : INSERTING STYROFOAM LINER
The Styrofoam liner is inserted into the five-gallon bucket. Two small rectangular cuts are made on the lid of the liner so that the heat sinks fit inside there and get good airflow around the edges.
STEP 4 : MOUNTING THE PELTIER MODULE
We cut a rectangle on the top lid of the bucket to allow the Peltier module to sit in. Small vent holes are drilled on the sides of the lid using a standard quarter-inch drill bit so that no hot air gets caught between the bucket lid and the Styrofoam lid.
Cut a small notch in the bucket using tin snips so the wires from the Peltier units will come out without getting pinched under the lid.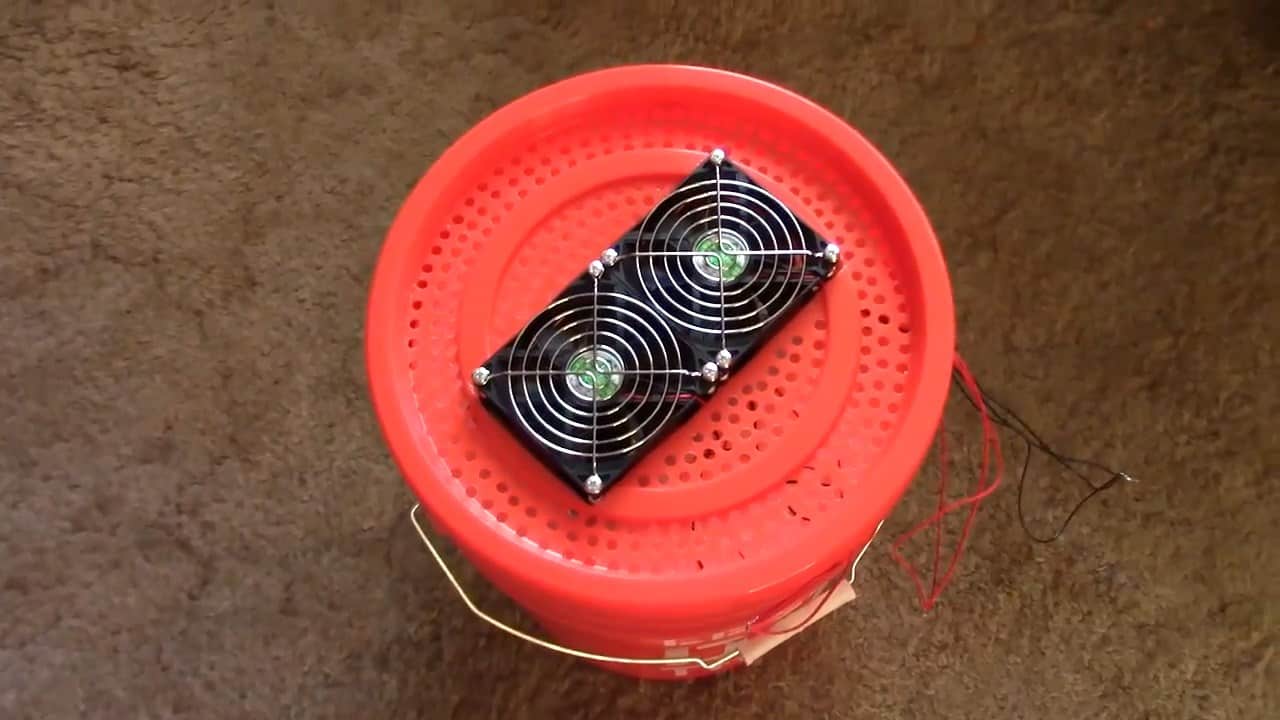 You can hook this unit to 100-watt solar panels straight, a 12-volt deep cycle battery, a 12-volt transformer to the wall, or you can use your car CIG lighter. This unit can drop the temperature inside the bucket from 81 to 47 degrees Fahrenheit in minutes.