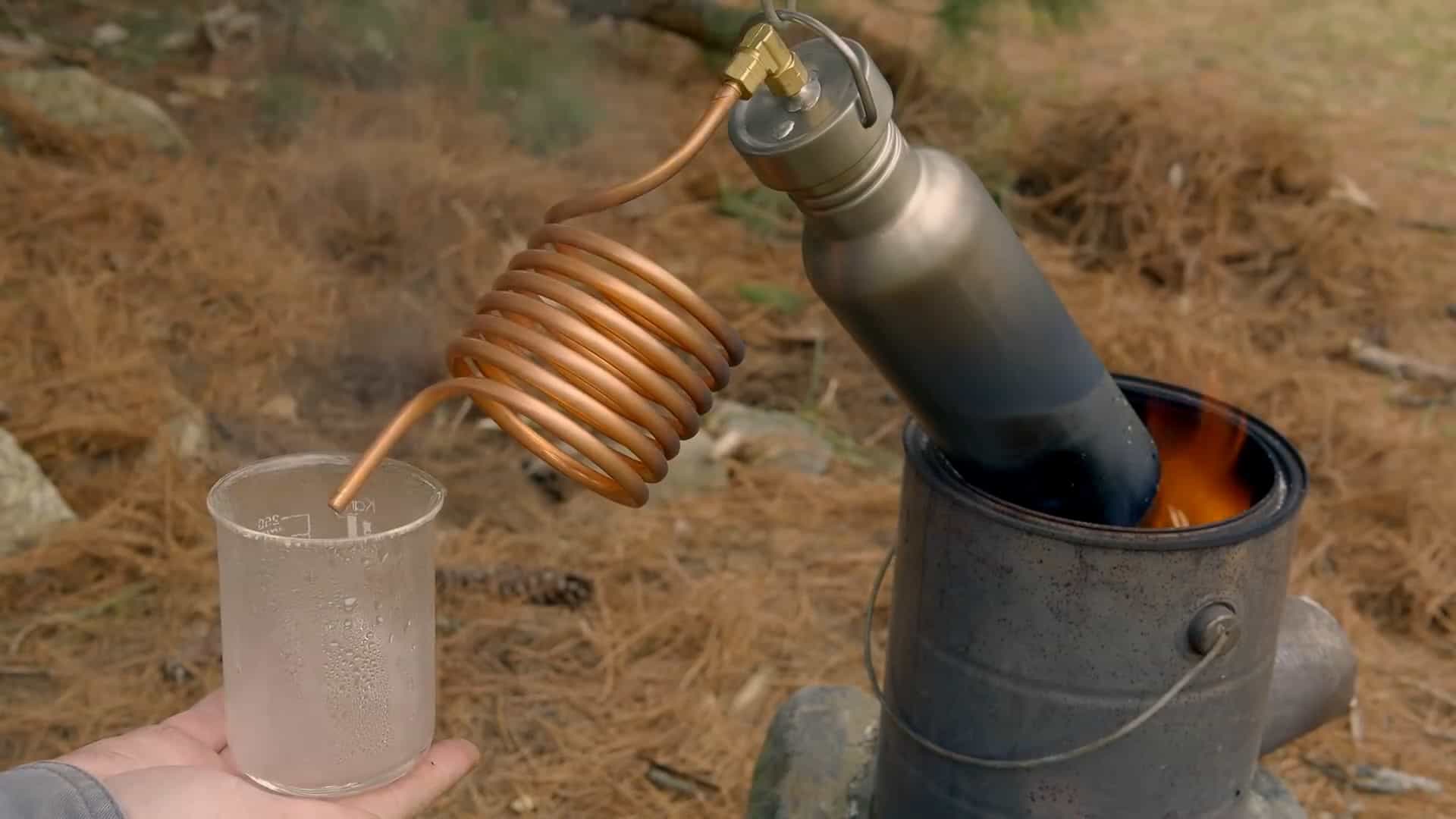 This project goes into the build a simple Survival water purifier that can turn saltwater /seawater into fresh drinkable water.This purifier is portable, easy to make ,and is very inexpensive. It works by the principle of desalination.When sea water/ salt water is heated to its boiling point, the water turns into steam which leaves the salt behind. Condensing the steam back into water,it is purified.
STEP 1 : MATERIALS REQUIRED
The materials you need to build this desalination unit are a simple non-insulated stainless steel bottle with a steel lid, copper tubing, stove or heating source,a  bottle for collecting the condensed water, a soldering unit, right angle compression fitting. The condenser of this desalination unit is made from one-quarter-inch copper tubing.
STEP 2 : INSTALLING THE COPPER TUBING
Remove the lid and the gasket from the bottle. A hole is drilled using a drill press at the top of the lid to accommodate the quarter- inch copper tubing. Before soldering the copper tubing, clean the surface of both copper and the stainless steel lid with the help of sandpaper. The copper tubing is pushed through the hole just enough to stick half an inch from both sides. It is then soldered securely in place. Once this is completed, the silicon gasket is then re-installed in the lid, and the lid is screwed back onto the bottle.
A right angle compression fitting is pressed into the lid at the copper tubing opening. The extension tube at the other end of the compression fitting is removed and replaced with a rubber gasket for a better seal for the lock nut.
STEP 3 :  WRAPPING THE COPPER COIL
The copper coil for the re-condensing of the steam when the water is boiling is made by wrapping the copper tube up tightly against the stainless bottle. Eight or nine turns of tubing is ideal. The ends of the coil are bent outwards so that when one end is pressed into the fitting on the bottle, the other side will be sticking straight out.
STEP 4: ADDING HEAT SOURCE
The bottle is filled with salt or seawater and reattached to the lid which is hanging over a heat source such as a wood stove or camp fire. The other end of the coil is placed near a collection container to collect the distilled water.
STEP 5 : COOLING THE COPPER TUBING
To produce more condensed water out of the copper tubing,we need to cool it down. Otherwise,the production of steam will outweigh the production of condensed water. To cool the copper tubing, wet put a wet piece of cloth soaked in cold water and wrap it around the coil or dip the whole bottom half of the copper coil into a vessel filled with cold water.
Image Credits : NightHawkInLight