DIY Video:How to build a simple Off Grid Electricity Generation System using Two Batteries
This project shows you how to generate Off grid AC Power using a simple Solar power station with 2 batteries.This system can provide enough off the grid power to run your appliances around the house.You can easily run light,a laptop computer, small tv and fan for several hours.
Most of the item required can be bought from your local store or Amazon.The rough cost of building this system is as follows :
$150 for 100W Solar Panel
$75 each for 2 batteries.
$20 for 400w Inverter
$40 for charge controller.
The whole system comprises of four things, a couple of batteries, inverter, and a charge controller.The inverter is purchased from Harbor freight ,the charge controller from fry electronics.The deep cycle batteries are from Walmart.
So you start by setting up your panels outside. In this case, I have six one amp panel set up, 15 watts a panel, so that's 90 watts coming in.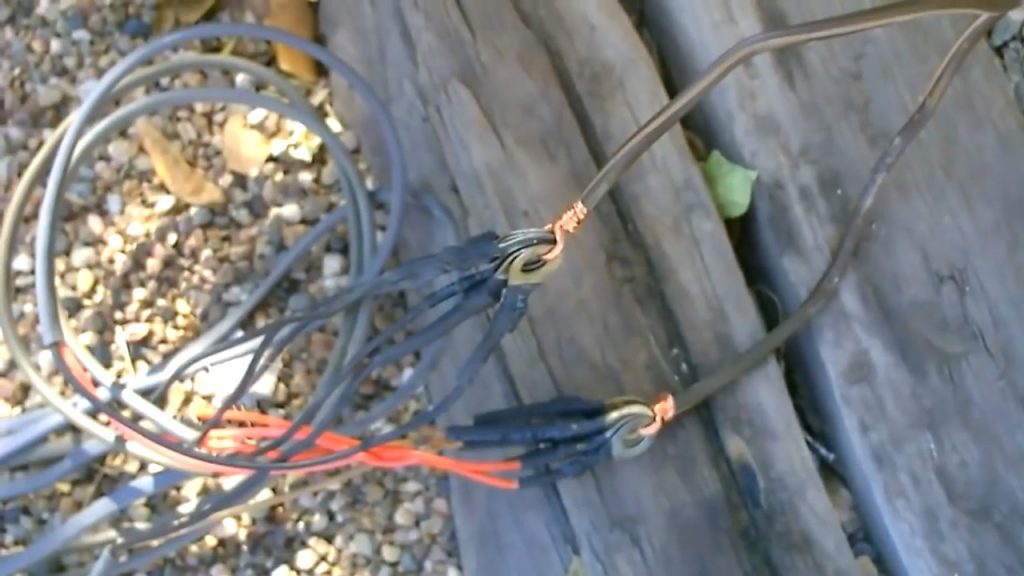 I lead them straight down to the main connection, it's just the six black wires all connected together and twisted tightly to that extension cord wire and the six red ones connected.Feed the line into your house,goes straight to the charge controller.
The output wire from the charge controller goes into the battery.So solar panels to charge controller ,charge controller to lead battery in your bank.And as you want to expand this to two,three or more batteries, just use some automotive cables and go from positive terminal of one the positive of the other. And with a black wire, negative terminal to negative terminal, the other one.
When you want to run something, just get your inverter that converts the power from DC to AC, take the clamps, clamp them onto that same lead battery in the system. So again, red to the positive side, black to the negative side and flip it on.
So remember, when you hook things up like an inverter, or the charge controller or voltmeter, anything you're going to hook up on here, make sure you always pick one of the batteries to be the lead battery and hook everything to that. Whether you parallel one extra battery with it, or five or six or however many you want to put on there.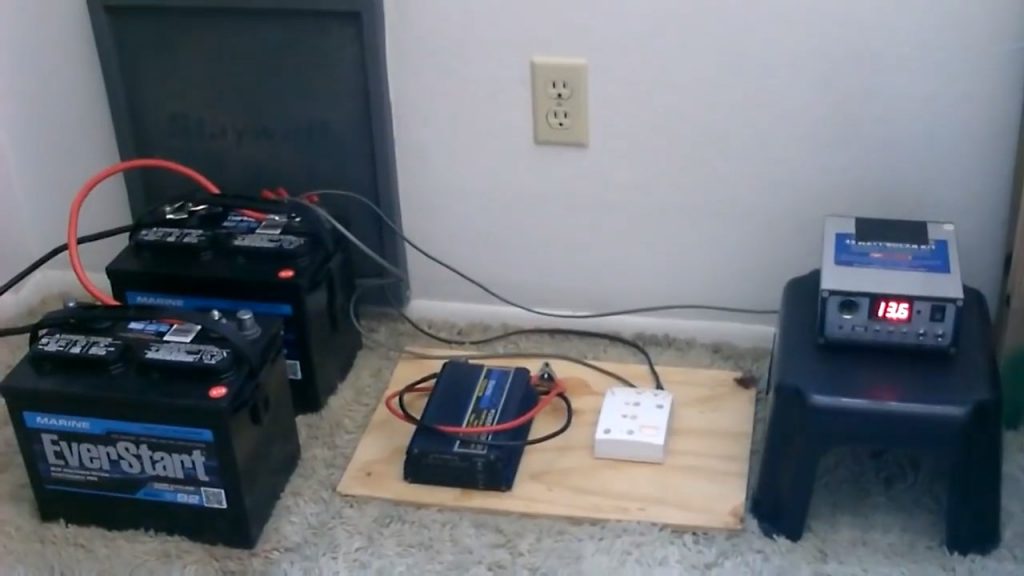 Also added here is a lighted voltmeter which gives you a constant reading on your battery bank so you know exactly what's going on with it at all time.
A simple system that can come really handy during a power outage or in any emergency situation.
DIY Video:How to build a simple Off Grid Electricity Generation System using Two Batteries

This project shows you how to generate Off grid AC Power using a simple Solar power station with 2 batteries.This system can provide enough off the grid power to run your appliances around the house.You can easily run light,a laptop computer, small tv and fan for several hours.

Most of the item required can be bought from your local store or Amazon.The rough cost of building this system is as follows : $150 for 100W Solar Panel $75 each for 2 batteries. $20 for 400w Inverter $40 for charge controller.

The whole system comprises of four things, a couple of batteries, inverter, and a charge controller.The inverter is purchased from Harbor freight ,the charge controller from fry electronics.The deep cycle batteries are from Walmart.

So you start by setting up your panels outside. In this case, I have six one amp panel set up, 15 watts a panel, so that's 90 watts coming in.

I lead them straight down to the main connection, it's just the six black wires all connected together and twisted tightly to that extension cord wire and the six red ones connected.Feed the line into your house,goes straight to the charge controller.

The output wire from the charge controller goes into the battery.So solar panels to charge controller ,charge controller to lead battery in your bank.And as you want to expand this to two,three or more batteries, just use some automotive cables and go from positive terminal of one the positive of the other. And with a black wire, negative terminal to negative terminal, the other one.

When you want to run something, just get your inverter that converts the power from DC to AC, take the clamps, clamp them onto that same lead battery in the system. So again, red to the positive side, black to the negative side and flip it on.

So remember, when you hook things up like an inverter, or the charge controller or voltmeter, anything you're going to hook up on here, make sure you always pick one of the batteries to be the lead battery and hook everything to that. Whether you parallel one extra battery with it, or five or six or however many you want to put on there.

Also added here is a lighted voltmeter which gives you a constant reading on your battery bank so you know exactly what's going on with it at all time. https://www.youtube.com/watch?v=cgEvCLJuBkg https://www.youtube.com/watch?v=8LAjx_XAR90 A simple system that can come really handy during a power outage or in any emergency situation.

How to build an Off grid Rocket Mass Stove Hot Water heater using Copper Coils, Clay ,Sand. Also works as a cooktop!!!

This project goes into the build of an off grid rocket mass heater for heating water without propane or electricity. This system also doubles as a cooktop. This rocket stove is really efficient and can create tremendous amount of free heat from little pieces of wood.

The materials you need to build this rocket mass heater are copper coil , PVC pipes to make mould, clay and sand mixture, a frame for support, storage tank or drum ,oil, wood as fuel.

The stove sits on a frame made from a wooden piece. Here an old chair is used as a base for support. The cob mixture made from clay, sand and water is poured on top of the frame as it is raised up.

The next step is make hole for the air intake at the base of the stove. Also another hole is made for fuel intake at an angle to the base. We use PVC pipes as mould to make these holes.

We lubricate the pipes with oil before covering them with mud so that they can be easily removed once the mould has been set and dry. A half cut lubricated PVC pipe is placed at the base of the support frame in front of another PVC which forms the body of the stove where the copper coil is wrapped.

We start covering the PVC pipes with clay and sand mixture around the junction where the pipes meet. Once the mud has been filled and raised up , another PVC pipe at an angle is placed for the fuel intake.

The copper coil is inserted into a well greased up PVC pipe . This section acts as the burn chamber where the coil gets heated up with the water inside. The coil is extended at the ends for the intake and the outlet .The bottom side of the coil is the intake of the cold water and the top for the hot water outlet.

Fully pack the area around the copper coil and sides of the PVC pipe with the clay mixture such that the copper coils are completely covered . Pack the clay till you reach five to six inches above at the end of the pipe . This is done so that the top can be used for cooking or boiling.

Once the clay and sand mixture is completely dried and set, we slowly take the PVC pipes out. Dig out the back end of both the holes so that all of them are connected to form a elbow shaped hole.

The intake and the outlet copper tube is then connected to a water storage barrel. The intake pipe is connected near the bottom of the barrel where the cold water settles and the upper end of the copper coil is connected at the top where the hot water is collected.

So the cold water that flows into the rocket stove, gets heated through the copper coil, and then due to the thermosiphon effect and natural convection ,the heated water is pumped through the other end of the coil on to the top of the barrel and this way the water is recirculated without the help of any external source. The cold water natural sinks down due to its higher density .The hot water becomes less dense once its heated , therefore it expands and rises up the coil to the water storage tank. Make sure that there is a height difference between the rocket stove and the water storage tank . The rocket stove always should be installed below the storage tank so that cold water naturally descends down into the stove and there is no backwards flow . https://www.youtube.com/watch?v=EUnQVIlAn6M

DIY Video:How to build an awesome Roof Top Portable ABS Pipe Hot Water Heater/Shower . Great for Camping/ Outdoors

This project goes into the build of a DIY solar powered pressurized roof top water heater and shower that is portable for outdoor survival and camping trips. This project is easy to make and requires only minimal tools and plumbing parts.

The dimension of the pipe used for this build is six feet tall and four inch wide. This has a capacity of 15 liters. The materials you need to build this project are six feet long four inch ABS pipe, air compressor, two four inch PVC end caps, abs cement, rubber schrader valve, shutdown valve and retainer nut, radiator valve drain plug , forstner bit,two inch threaded end cap, high heat flat black paint, steel wool scrubber, methyl hydrate.

The shutoff valve is installed as low as possible in the pipe to avoid the necessity of having to tilt the system. Mark the position for the valve keeping the retainer nut in place , we insert a forstner bit into the nut creating a center mark for the drill .Once the hole is drilled ,we thread the shut off valve into place and attach the retaining nut.

For installing air compressor for pressurizing the tank ,we use an long schrader valve that is used for aluminum rim tyres. This valve uses threaded nuts to secure it in place .

Next step is to install the water intake opening. For this we use a two inch PVC threaded adapter socket . We take the diameter of the fitting and then drill out the opening and glue the fitting in place using ABS solvent cement.

A radiator valve drain plug is installed on the threaded end cap of the water intake PVC fitting .This valve helps to release extra pressure from the tank without opening the main drain shut off.

In order to improve thermal absorption of solar energy, the surface of the ABS pipe is painted with flat black paint. The surface is polished with steel wool soaked in methyl hydrate and applied one coat of spray primer followed by two coats of high heat restoleum black paint.

To mount the shower to roof of the car or truck , we use a canoe foam block . We extend the slots in the foam block to make them fit inside the cross rails . An arc is cut on the foam block equal to the outside diameter of the pipe and positioned it such that it left half an inch of foam between the mounting slot and the bottom of the arc. To attach the shower to the support pads, here we use one inch nylon tie down straps. With both these pads in place, the water heater is securely attached to the roof.

An inexpensive 25 foot long coiled three eighths inch hose from the local garden center is used as the shower hose. This would be perfect as it is easily stored and can be taken apart after use. The air compressor is connected to the pipe with the help of a multifunction spray nozzle .

Thee bursting point of six inch ABS pipe is well over 100 psi .So a 30 psi would provide safe and ample pressurized shower without any long term expansion fatigue to the pipe or glue connections . https://www.youtube.com/watch?v=dG2HK9JsAjw
---