DIY Video :How to build your own Homemade Lumber Mill from Scratch .
This projects goes over the build of a cheap homemade lumber mill using materials around your home
This mill has a 12 inch saw blade purchased from Home Depot that cab do cross cuts, or it can do longitudinal rip cut.I am gonna be cutting the long direction on the word.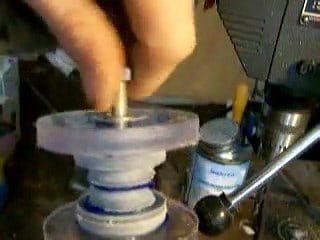 First step is building the rollers. Four rollers are made out scrap materials lying around. The wheels are made of polycarbonate material .These are adjusted on a drill to ensure that they roll smoothly on the pipes.
Next step is the build the tracks.Here I use 2 old steel pipes and welded to make a long one. 3 more pipes are welded on top of those 2 long pipes horizontally to give stability. Make sure the pipes are all lined up .
2 rolling carts are made from the leftover pipes tha slides across the pipes.Make sure these are parallel to each other.4 sliding pipes are bolted on these carts.
4 pieces of pipes are welded on top of these rolling pipes that are paralled to the horizontal pipes below .They act as a crank that can pull the sliding pipes.
Threaded holes are put along the pipe that connects the sliding pipes.2 cables are connected in opposite ways to a small spring pulley system that can help sliding pipes move vertically up and down when the top crank is rotated.
The Saw Blade is attached to a steel rod.The blade is attached to a washer on the other side to ensure it doesn't fly off.
The axle is passed through a square metal box which is bolted using a bearing on both sides.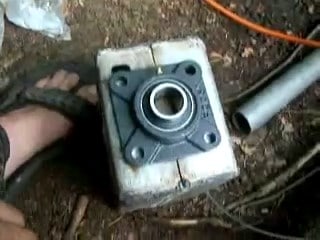 The motors attaches to the top of the box mount .A pulley is then attached to the metal rod from the motor using a small wheel.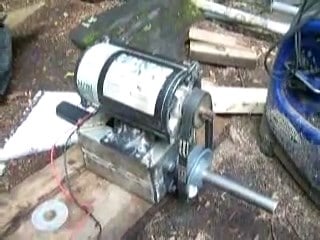 The next step is to take whole side assembly thing attach it to the cart so it can pivot.
Ball bearings are attached to the box on both sides.This must be placed at a very specific distance away from the blade. So that when I flip it the the edge of the blade will line up so it cuts clean without cutting deeper into the wood and without not cutting far enough and leaving it still attached.When its swiveled it will pivot the blade perfectly.
Next step is make take the whole motor and blade assembly and attach it to our rails so that it can slide and rotate .
We attached 2 pieces on both sides of the motor blade assembly to ensure that the system stays perfectly straight while cutting horizontal or vertical.
DIY Video : How to recycle your Waste motor oil,transmission oil or any waste fuel into 100% Re-Usable Fuel

Salvage waste motor oil, transmission fluid, old diesel that has water in it, whatever type of fuel that you might be able to have access to, wouldn't it be great to be able to take that fuel and run it in your vehicles and not throw it away? Or have to recycle it, you can recycle it yourself. Well, one of the ways is to filter. But filter material is expensive, and you got to constantly replace it. So I was introduced to this filter. Actually, it's a centrifuge by USfilterMaxx. This is just our initial test where we're going to take waste motor oil, dump it in the top of the centrifuge at spinning at about 3000 RPMs or more.

And then we're going to drain and the result will be waste will be sludge in one bucket and clean motor oil and the other that can be mixed with diesel or run straight. In some diesel engines be careful on how you do this, you don't wanna mess up your injectors. But for old diesel engines that are very pretty forgiving, this is a great solution. So again, this stuff will go in my tractor or my old two cylinder diesel generator, but I'm just taking waste motor oil, and spinning out everything to make to make fuel, waste or motor oil has a ton of btu's in it. And mixing it with diesel makes for a very good sustainable solution.

This is just some motor oil, nice and black from a friend of mine is changing oil in his truck. And we're gonna start with a two and a half gallon batch and run this through the centrifuge and see what she does with it. So you can see how black it is. Run the centrifuge on start introducing the waste oil. Okay, we're starting to get this filtered oil out.We're just doing a two and a half gallon batch run here. And then we're going to shut the centrifuge off.

And the only way to really tell if we did anything was to see how much sludge is left in the centrifuge. That doesn't work until the centrifuge stops spinning because all the sludges is gonna be stuck to the outside wall. The sludge starts coming out.The centrifuge has stopped spinning, everything moves to the center and that's where the drain plug is

This is the guts of the centrifuge. When this is spinning, it takes the oil coming in and pushes it out, and it comes over the dam, the clean stuff comes over here, it looks like it never had oil on it. And then that drops in here to come out the clean tube. When you stop spinning, the internal drains here. That's where the sludge is coming.

The centrifuge run off a 220 power source. So you will need a generator or grid power to run it, or a pretty good battery bank in an inverter to run it We're gonna take our motor oil that we've just spun in a centrifuge, and we're going to put about a gallon and a half of it in this five gallon jug, and then I'm going to add a gallon and a half of diesel.We're gonna pour some of our motor oil mix and veggie. I mean motor oil and diesel 50-50 combination first.

We've added a few cool features to our centrifuge we added a shell and tube heat exchanger made out of copper. So we can take hot water and heat the oil, the stored oil to a point where the viscosity is, is much lower, and it'll spin out a lot cleaner. We've added a little solar direct drive water pump, throwing off a little 20 watt panel, moving the hot water through the shell and tube.

We've also added a P-trap to make sure any of the vapors from the hot oil do not escape into the clean oil bucket. They stay in the centrifuge and actually are evacuated out of the sludge side.

We use thermo siphoning using a used water heater for the heat .This is free heat, there's no pumps, just thermo siphoning up to this tank and then using the little solar pump to take the hot water off the top of that tank and run it to our shell and tube.

So pretty much off the grid water heating, heating lots of water using a thermal siphoning process. https://www.youtube.com/watch?v=3kOHhztok0Q https://www.youtube.com/watch?v=UKUCYuYM_Rc

DIY Video :How to build a Simple and Efficient Copper Coil Burner Stove from start to finish.Great in a emergency/disaster or while out camping

This project goes over the build of an simple and efficient copper coil tiny alcohol burner jet stove. The materials you need to make this stove are canning jar, small copper tubing, JB weld to seal up the from inside and outside , pipe to wrap the coil, couple of drill bits, a wick material, sand and Isopropyl Rubbing Alcohol as a the fuel.

Fill the copper tubing with sand all the way up. Seal both ends of the tube with a cloth or a cap. With the help of a vice ,we bend the tubing around the pipe into a loop. Flatten the sides of the coil keeping the sides together.

Empty the sand out of the copper coil and run water through it to get everything out. This is done so that the inside is completely open for the air and the gas to build up and burn in there.

Cut a vent hole down the center of the looped coil using the smallest drill bit. Mark the canning glass jar against the copper coil so that we can cut off the extra coil legs so that the coil fits inside the jar approximately three quarters way down.

Next step is to make holes for the lid of the jar . Place the coil on top of the lid and make two spots for the holes. We use a drill bit ,same size as the coil to drill two holes.

The coil is placed through the two holes of the lid and sealed on both the top and bottom side using JB Weld. Allow the glue to set for an hour.

Take your wick cloth material ,insert and twist them through both the holes of the coil all the way up to the top.

Pour some Isopropyl Rubbing Alcohol onto the jar , place the lid with the coil on the top and tightly close the jar with the cap. Wipe the sides of the coil with rubbing alcohol.

To prime the stove for its first burn , start by heating the coil using a propane torch first. The heating of the coil gets the gas going. Heat until the flame starts to appear. Burn for four to five minutes to steady the flame.

https://www.youtube.com/watch?v=HFrWw5dgliQ

How to build a Simple Homemade Water Distiller that turns dirty water/salt water into clean fresh pure water

This project goes over the build of a Simple and cheap Homemade Stovetop Water Distiller.Turn your dirty,salt water into fresh drinking clean water fast.This setup is great for everyday or emergency use. Assembles/disassembles fast for easy portability. The material needed to make this distiller are : A teapot,10 feet copper coil, corrugated stainless steel or copper tube.

The water source coupling is connected to a foot and a half corrugated three quarter inch copper pipe that further reduces to the half inch and then this is a connected to a 10 foot roll a half inch copper tubing.

The three quarter inch threaded two half adapter is soldered to the 10 foot copper coil tubing. Bend the tube into a tight spiral.

A Stainless steel or copper foot and half corrugated pipe goes into the 10 feet twisted copper coil. The end of the corrugated pipe goes into tea pot or water source connector. A total of 12 feet of coil.

The steam rises without bringing any of the impurities along with it. The steam travels through the coils and slowly cools and condenses. It finally condenses back to its liquid form and drips out as clean water.

In order to make it even go faster, put some cold towels around the coil or even submerged in water. A little bit of aluminum foil over the top is kept and the copper tube is extended down a little bit into the glass jar. Everything stays completely tight the whole time.

You can make this distiller with that single corrugated copper tubing, but the more copper we add, the more time it has to condense down into purified liquid water. During the test,we have managed to acheive half a gallon in 2.5 hours. You can use this on the stovetop, rocket stove campfire, even a parabolic concentrator like dish cooker. Anyway to get that water boiling, then just hook it up like this. Makes tons of clean water really fast. https://www.youtube.com/watch?v=KoEn5kfpTYI
---