This project goes over the build of a cheap homemade lumber mill using materials around your home. This mill has a 12-inch saw blade purchased from Home Depot that cab does cross cuts, or it can do longitudinal rip cuts.I am gonna be cutting the long direction on the word.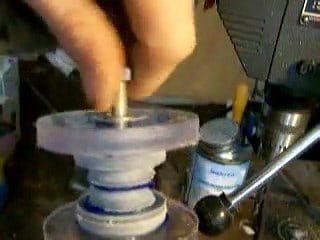 STEP 1 : BUILDING THE ROLLERS
The first step is building the rollers. Four rollers are made out of scrap materials lying around. The wheels are made of polycarbonate material. These are adjusted on a drill to ensure that they roll smoothly on the pipes.
STEP 2 : BUILDING THE TRACKS
The next step is the build the tracks. Here I use 2 old steel pipes and welded them to make a long one. 3 more pipes are welded on top of those 2 long pipes horizontally to give stability. Make sure the pipes are all lined up.
STEP 3 : ROLLING CARTS
2 rolling carts are made from the leftover pipes that slide across the pipes. Make sure these are parallel to each other.4 sliding pipes are bolted on these carts.
4 pieces of pipes are welded on top of these rolling pipes that are parallel to the horizontal pipes below. They act as a crank that can pull the sliding pipes.
Threaded holes are put along the pipe that connects the sliding pipes.2 cables are connected in opposite ways to a small spring pulley system that can help sliding pipes move vertically up and down when the top crank is rotated.
STEP 4 : SECURING THE BLADE
The Saw Blade is attached to a steel rod. The blade is attached to a washer on the other side to ensure it doesn't fly off.
The axle is passed through a square metal box which is bolted using a bearing on both sides.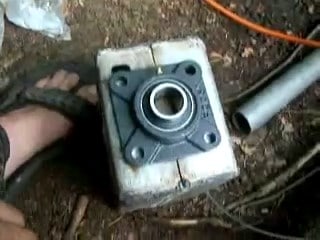 STEP 5 : CONNECTING THE MOTOR
The motors attach to the top of the box mount.A pulley is then attached to the metal rod from the motor using a small wheel.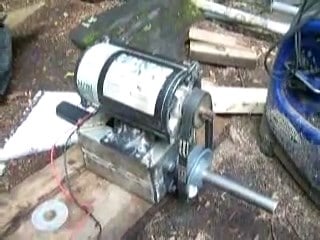 The next step is to take the whole side assembly thing, and attach it to the cart so it can pivot.
STEP 6 : ADDING BALL BEARINGS
Ball bearings are attached to the box on both sides. This must be placed at a very specific distance away from the blade. So that when I flip it the edge of the blade will line up so it cuts clean without cutting deeper into the wood and without not cutting far enough and leaving it still attached. When it's swiveled it will pivot the blade perfectly.
The next step is to make take the whole motor and blade assembly and attach it to our rails so that it can slide and rotate.
We attached 2 pieces on both sides of the rotor blade assembly to ensure that the system stays perfectly straight while cutting horizontal or vertical.
Image Credits : J Mantzel