DIY Video : How to heat your garage the Inexpensive way by building an Outdoor Stove with Heat Exchanger
This project goes over the build of an inexpensive garage heater using DIY outdoor barrel stove with a heat exchanger. This outdoor setup is safe because you dont want the stove inside the garage to catch fire if you are working with any flammable gas. We use a 30 gallon drum for the stove. The access doors and legs are purchased from the local store.
The heater exchanger is made out of four inch steel pipe .We take couple of 4 foot pipe and weld them together using another small pipe. This pipe goes inside the firebox and connects to the chimney pipes. The pipe should be thick enough that it can withstand the heat of the fire without sagging or bending. This pipe heat exchanger adds positive pressure .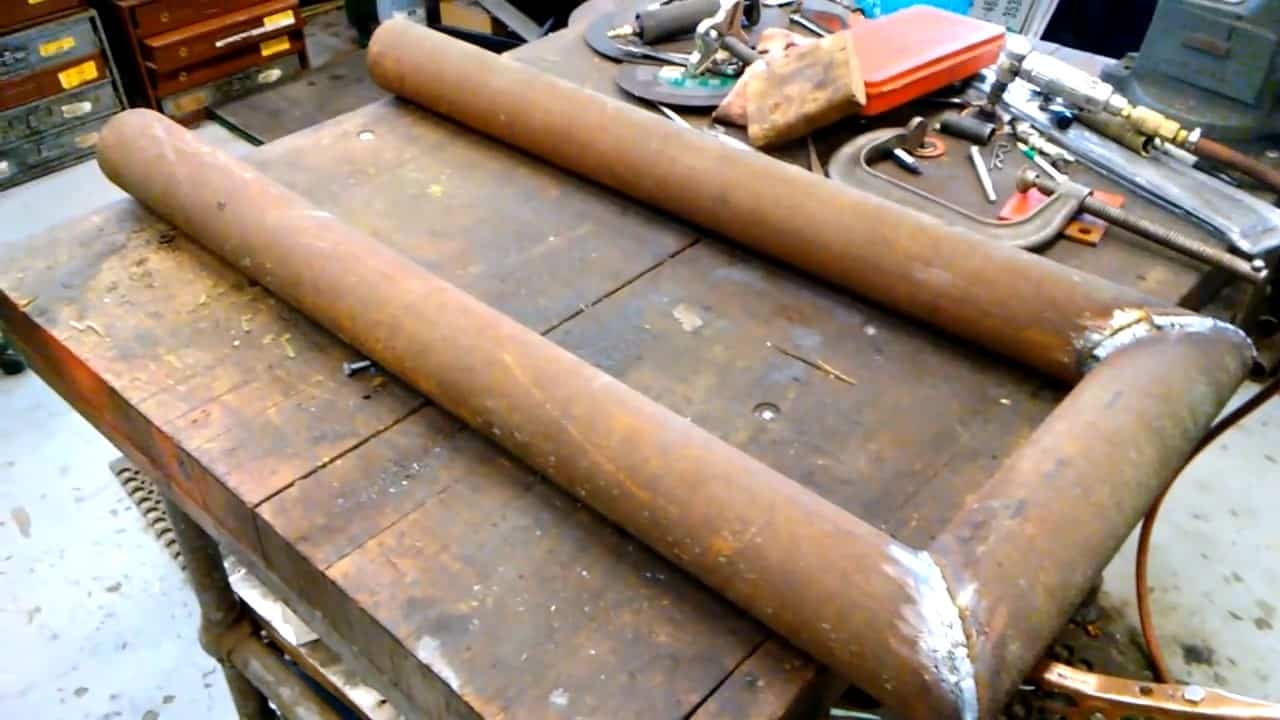 Removable hatches are made on one side of the stoves to connect the 2 four inch aluminum flex chimney pipes from the outside barrel to the garage.
Inside the garage we place a 4 inch exhaust fan blower that sucks the colder air from the floor and blows it through one of the flex chimney pipe into the stove. The blower is actually a hydroponics duct exhaust fan purchased from Ebay.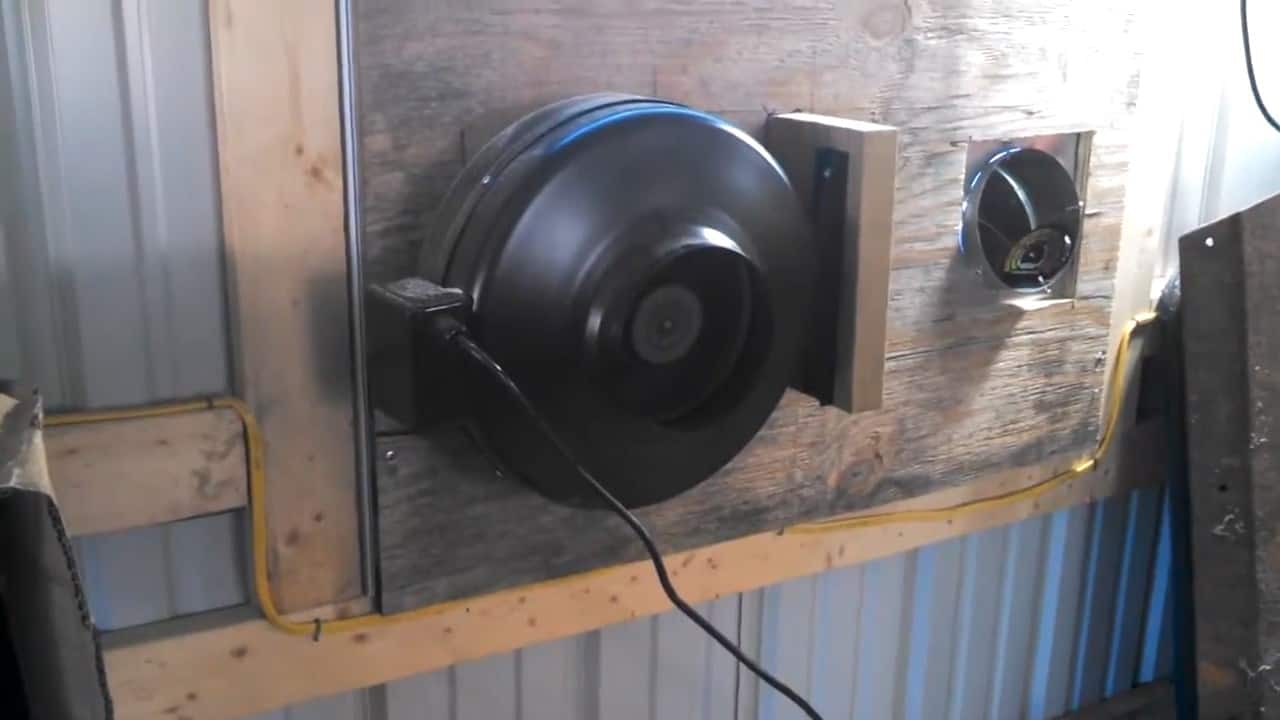 The cold air gets pushed into the stove and moves through the heat exchanger steel pipe , gets heated and then moves out through the second chimney flex pipe and back into the garage. The hot air from the stove moves into the garage through the second pipe.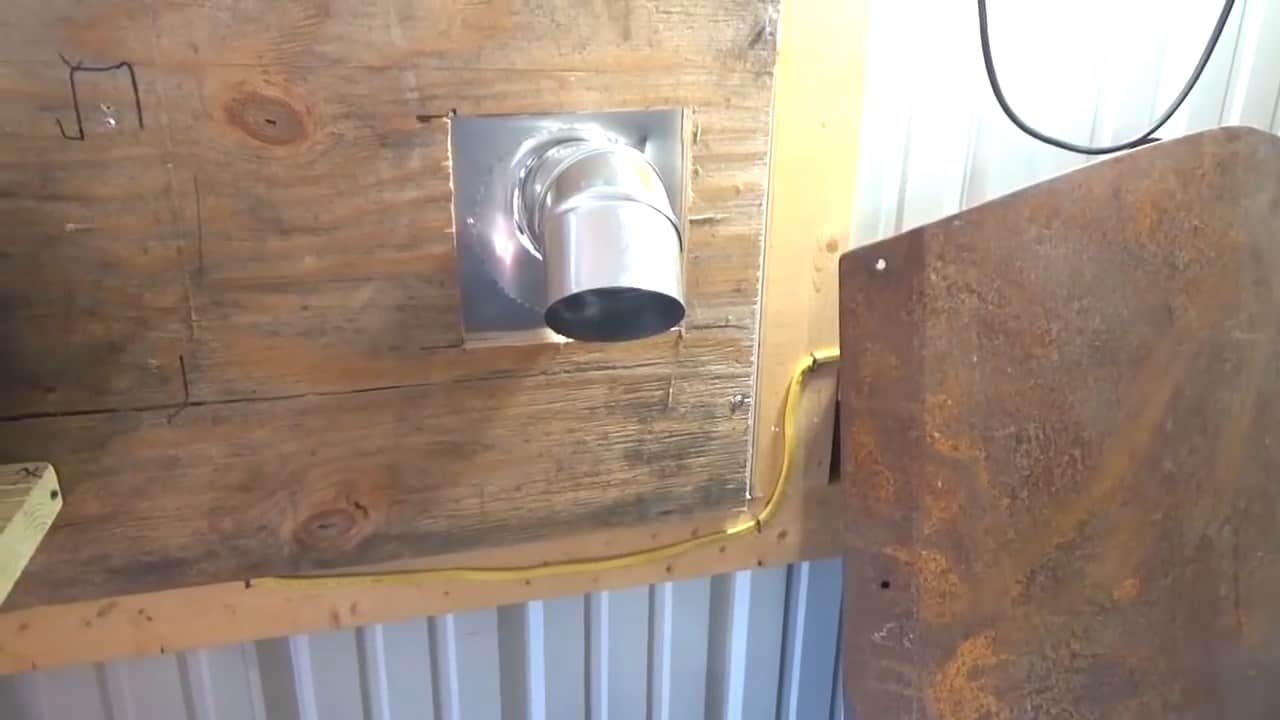 In order to get more hot air, we also add a drip fed waste oil system to the outdoor stove . The oil gets dripped slowly from a tank into a frying pan on top of the stove .You can add cotton rags and let it drip into there and it just keeps burning like a wick. The combination of both wood and waste oil produce better fire . If the stove gets too hot, you can turn of the oil or use oil only to maintaining the temperature. You can put an insulated shack around the stove to minimize the heat loss.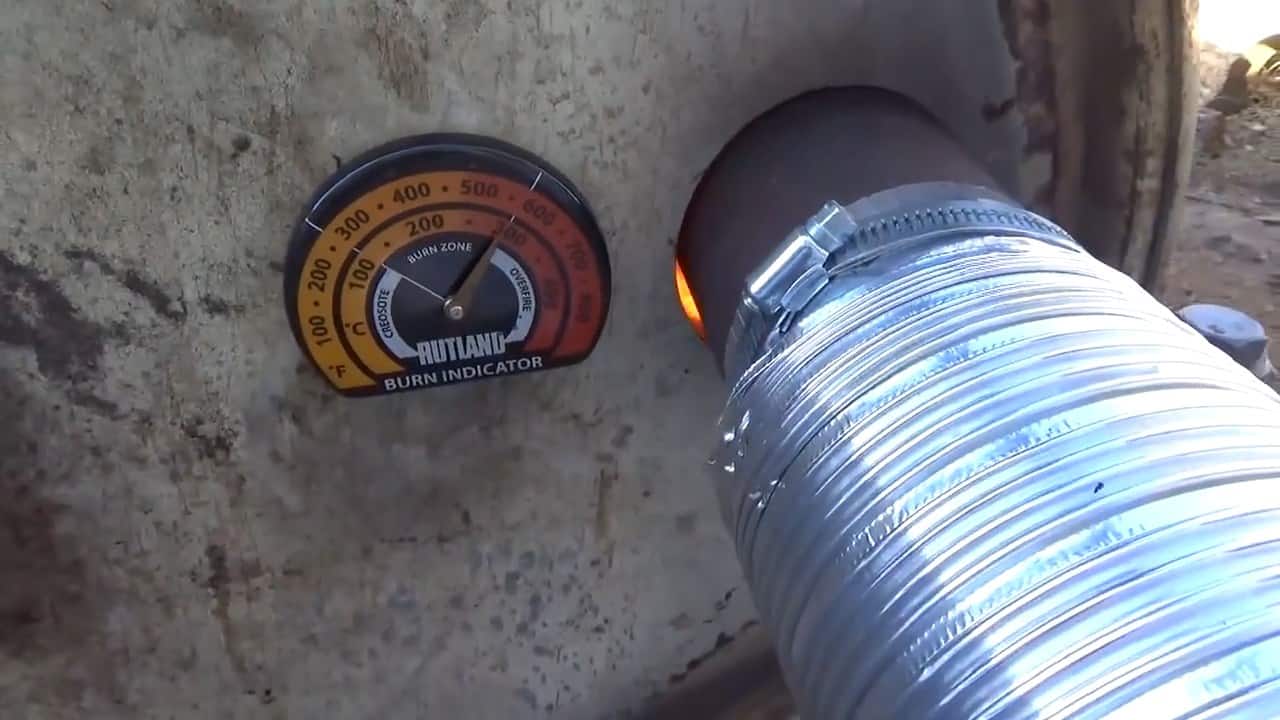 How to build a Powerful DIY Off-Grid Emergency Backup Generator .Fully Portable!!

This project goes into the build of a portable and powerful off grid emergency solar generator with higher capacity than commercial units at a fraction of the cost. This system can keep a small fridge operating 24/7, charge your devices, power TV ,LED lights, Laptops. it is small enough to be stored away in your garage and portable enough to move where it was needed.

The main components used to build this generator are as follows. 4 Renogy 100 Watt 12 Volt Monocrystalline Solar Panel Renogy Rover 40 Amp MPPT Solar Charge Controller Renogy Deep Cycle AGM Battery 12 Volt 100Ah Sug 2000W(Peak 4000W) Power Inverter Pure Sine Wave DC 12V to AC Renogy 20 Feet 10AWG Solar Extension Cable with MC4 Female and Male BLACK+DECKER BM3B 6V and 12V Automatic Battery Charger / Maintainer 6 Circuit Fuse Block W/Negative Bus Milwaukee Hand Truck with handle Control Panel with USB Charger,LED Voltmeter,12V Power Outlet, ON-OF Switch. To create a solar system that can truly meet your needs and cope with the variability of your environment, you really need to do some planning. This will help you avoid building a system that isn't up to the job and can save you considerable money by preventing the expense of replacing components later on.

To calculate the number of batteries and solar panels you will need to create a system to provide power in all seasons through inclement weather and at your particular latitude, you need to determine the devices you intend to power, log their power consumption across a few days using a power meter. Then find the reserve days . This is how many non sunny days the system can tolerate while still powering your devices. Also find the recovery time by calculating how many days of sun that will be needed to fully recover when the batteries have run down due to lack of sun. You also need to know the usable charging hours in day and the actual battery round trip efficiency since batteries give back something less than the amount of power used to charge them.

Here we use 4 100 Watt 12 Volt Monocrystalline Solar Panels to charge our 12 Volt Deep Cycle Battery. The panels are wired in series so that the voltages add together and you can get up to 80 volts from four panels. With this system there is enough voltage to begin charging as soon as there is any daylight at all. It also charges the batteries right up until dusk. Another advantage of the series wiring is that it is much better for long wire runs when the solar panels are not close to the generator and you can use less expensive smaller wire gauges for the solar panel runs.

To use panels in series you must have an MPPT type charge controller. They are specially designed to accommodate the high voltage of panels wired in series up to the particular controllers voltage limit .MPPT controllers are much more efficient converting nearly all the energy coming from the panels into charging power for the battery.

A 2000 watt pure sine wave inverter is used that can provide up to 4000 watts of surge power, and with enough battery support can run any conceivable device including those with motors. To store energy we use a 2 12V AGM marine batteries . These give plenty of reserved capacity that will last with reasonable care . They don't leak and can tolerate cheaper discharges and have very good round trip efficiency.

Four 100 watt solar panels are connected through the 40 amp MPPT charge controller . The panels can deliver up to 2400 watts of solar power in the shortest days of winter. And the charge controller converts solar power to charging power very efficiently and also support serial panel configurations increasing the systems capability.

A heavy duty hand truck is used for loading all the components . A frame made of angle iron is welded on to the platform to mount the batteries. Two angled straps are welded across the truck to provide more support for the battery frame.

The various components are mounted on a back support made of five eighth inch plywood. I use a tapered punch to make starter holes for all the screws that hold the components. The hand cart is laid on its back and the plywood board is aligned in such a way it doesn't block the holes. While the cart was on its back I screw down all the components with stainless steel screws.

For the project we use a thinner 18 gauge wire for the low current circuits, medium 14 gauge for the 12 volt port and heavy 10 gauge for the high current charging circuits. Red is always connected to the plus or positive connectors, black always to the minus or negative.

The positives and the negative connection coming from the solar panels are connected to the solar charge controller with the help of a quick disconnect Wire Harness SAE Connector. The negative of the solar charge controller is directly connected to the negative connection of the battery while the positive goes through a fuse block before connecting the positive of the battery.

The negative connections from switch, voltage display ,USB ports and battery charge meter is connected via a medium 14 gauge wire to the battery negative. The positives are connected to the battery through the fuse block. The 12 volt port is on its own fuse so it gets separate wires in the medium 14 gauge. The positive of the 12V Battery Charger is connected to the fuse while the negative is connected to the battery.

The batteries are placed on platform of the cart facing opposite directions so that positive and the negative terminals are near the plywood backboard where the components are attached.

The battery connection cables are cross connected to create a parallel 12 volt configuration careful to ensure the block cable connected only to minus terminals at both ends and the red cable connected only to plus terminals at both ends.

Next step is the orientation of the solar panels. As you probably know the sun is lower in the sky in the winter higher in the summer. In the winter, the days are also shorter as you really want to optimize for winter to get as much energy as you can when the days are short. Since my panels are fixed, we want to point them due south and angle them for the winter sun. There are tables you can find online that can give you a pretty good idea of the right vertical angle for your geographical location.

In the summer the sun is pretty much straight overhead, so the panels are optimal when laying flat. The angle panels are their most productive in the depth of the winter losing a little each day until the height of the summer as the sun is further off the winter angle. Meanwhile, the flat panels are less efficient in the winter because the sun is at a low angle but gaining each day as the sun gets higher in the sky. https://www.youtube.com/watch?v=QZYAAatdlmc

How to build a Simple Homemade Bandsaw Mill from Old Car Wheels

This project goes over the build of a simple Bandsaw from old car wheels .Car wheels are big and heavy, but in many ways, they are ideal for bandsaws. They are available everywhere cheaply. They have a rubber tire for the blade to sit on, and they have excellent bearings.

Take apart the brakes, the backplate , bearings and the stub axle out of the housing. Weld the stub axle onto an off cut of scaffolding.

So we now have two wheels, spinning on the ends of two straight lengths of steel.

We take some scrap angle iron pieces and make a rectangular frame for the mill. This form as the base of our mill.

In order to make the sliding mechanism, we take a scrap pipe and try to fit it onto a square iron pipe so it can slide in and out smoothly. This will be used for all adjustments. This is welded onto the frame.

A Steel plate is welded onto the sliding bars. This is for the engine to sit on. The engine will drive one of the car wheels

We mount the 11 HP Petrol Engine to steel plate and the tire is connected directly to the engine shaft through a drive belt.

The drive wheel is bolted on to the frame ,also added a lever for the engine mount which will act as a sort of clutch, tightening and slackening the belt when necessary.

We add two more pipes on the bottom of the frame and slid them to the support platform of the second wheel made from the same square box iron and some short sections which is part of the blade guide.

The second wheel has to be adjustable in a few different directions and has to be lined up with the first wheel so the blade stays on them both without running off the tires. To adjust the tension on the blade by moving the wheel away from the first one, we use a bottle screw.

The blade guides are made from cheap bearings. They needs to be adjustable so that the saw can cope with logs of different sizes. The blade guides help keep the blade straight as it goes through the log and also stops the plate being pushed off wheels

The band saw has to go up and down so that it can cut planks from a log. We make a simple frame to hold it. It has to fit inside vertical pieces of angle iron on the saw. The support frame is bolted onto to the saw by using a bracket which grip the uprights.

Couple of barn door pulleys are bolted onto the top of the support frame and the mill frame. A trailer winch is bolted on to the middle of the support frame. Using a 3mm wire and winch-pulley system, we can move the wheel frame up and down.

Two short pipes are added at the front and these hold up a guard which can be taken off when we need to get at the belt or the blade. If the blade snaps, the side guards should make sure that it heads down towards the ground and not up to the ceiling.

The saw is stationary and the log is moved through it using dolly trailers or rails. https://www.youtube.com/playlist?list=PL3_dJayH6e6ibBd5sA6WgXO99zf2zBsUe

How to recycle scrap metal in the backyard by building a simple Mini Metal Foundry from start to finish

In this project, we're using equal parts of sand and plaster to make a simple backyard foundry that's powerful enough to melt scrap metal in seconds.

With this homemade furnace, we have the power to liquefy aluminum in the backyard and cast just about any object we can think of.

You will need some big bag of play sand and some plaster of paris both of which you can find at your local hardware store for under $20.

We are also going to need a 10 quart steel bucket and a tablecloth to cover anything.

For this makeshift refractory lining we need One and 1/3 buckets full of plaster Paris or 21 cups, One and 3/4 buckets full of sand or 21 cups and 1 and 1/4 buckets filled with water or 15 cups.

Mix everything together. It's really important to get all the dry powder wet and work out any lumps as quickly as possible. And after mixing for a couple of minutes, it should be fairly runny and roughly all the same color.

Transfer the mix to the steel bucket upto 3 inches from top. We use the plastic measuring bucket to form the center of the foundry. Let the mixture dry for 3 minutes.

Next step ,we turn an old steel fire extinguisher into a custom crucible. Depressurize the tank and unscrewed the valve from the top to make it safe and easy to cut in half with a hacksaw.

At this point the plaster should be pretty well set. So let's dump the water from the bucket then use a pair of channel locks to pull the bucket out.

Next step is make an air supply port .Using 3/8 inch hole saw and a metal cutting blade, we cut a hole to accommodate the one inch steel blower tube.

The blower tube is made of one inch steep pipe ,one inch PVC coupling and one inch PVC pipe.Threads on one half of the coupling screw onto the steel pipe and the slip adapter on the other end simply pushes onto the PVC side easily.

Next step is to build a lid to retain the heat.You need a couple of 4 inch U bolts.Make them stand upright into a 5 quart bucket filled with the insulating mix.

To relieve pressure buildup, make a vent hole using a 3 inch hole cutting saw.

This design works great for venting pressure and gives us the option to melt metal as well without even having to take the lid off the furnace. By the way, if you run out of soda cans to melt, you could try using it as a blacksmithing forge or even a barbecue for summertime grilling.

We evenly place 5 charcoal briquettes at the bottom of the crucible made out of steel fire extinguisher, helps smelt the can faster once we fire it up.

A hair dryer is taped to a PVC pipe and inserted a couple of one inch couplings to connect the steel tub eat one end and give the blower to a quick release feature. This way it's super easy to take apart and fits into a five gallon bucket for easy storage.

The charcoal is filled it to the top and we breathe life into the steel furnace with a propane torch.The hairdryer is set to the low setting and blow a steady stream of oxygen on the charcoal to really heat things up.

The lid we made keeps the heat inside so it conserves energy while it's bringing up the temperature. The coolest part is that the crucible lines up perfectly with the hole in the center.

The container is three inches wide, which is the perfect size for melting standard size soda cans like these and at temperatures over 1000 degrees Fahrenheit .

In order to isolate aluminium, first we remove the crucible making sure we have got a very secure grip with our tongs and slowly pour the liquid into a steel mold.

The Soda cans are molded in the form of ingots.The purpose of an ingot is to keep some pure metal handy for when you want to make something cool.

https://www.youtube.com/watch?v=hHD10DjxM1g https://www.youtube.com/watch?v=lSoWxG30rb0
---