How to build your own DIY off grid / grid down Solar Power Back up system from scratch
This project goes over the build of a Solar Power Grid Down Backup System to generate your own alternative power.A great way to utilize renewable energy as a backup source of power.
Whatever may be the reason , may be to offset electricity bills or for self reliance to provide when the grid goes down, a solar backup system is simply a great way to provide alternative power to maintain a lifestyle of reasonable convenience.
If the grid should go down, I can have a freezer, power lighting, pump water, maintain communications, use tools, and charge every little device I have from flashlights to kindles.
This Off grid Solar Power System is composed of 5 components. Solar panels to generate the power, a charge controller to charge the batteries, the batteries to store the energy, the inverter to provide AC to the household items you wish to power.
Also you need a Kilowatt meter. The kilowatt meter measures two things you have to know how much energy your devices draw at any given moment, and how much power they consume over time.
Here we use 100 watt monocrystalline panels, a 40 amp MPPT charge controller, a 1000 watt pure sine wave inverter and to store the energy, 446 volt golf cart batteries totaling 470 amp hours.
First you need to size your system by figuring out how many devices you are going to want to run at the same time. This will determine the size of your inverter, the inverters function is to take DC power from the batteries and converted to AC power for use with household appliances. If I have 1000 watt inverter, this means I can run up to 1000 watts worth of devices at the same time.
Once you have evaluated every device that you feel that you are going to need, should the grid go down, you are gonna have a good idea of how much power you need to generate each day.
The battery bank consists of four, six volt, Duracell SLIGC 125, golf cart batteries connected in series. Golf cart batteries are designed to deliver a lower amount of power over a longer period of time and then recharge quickly.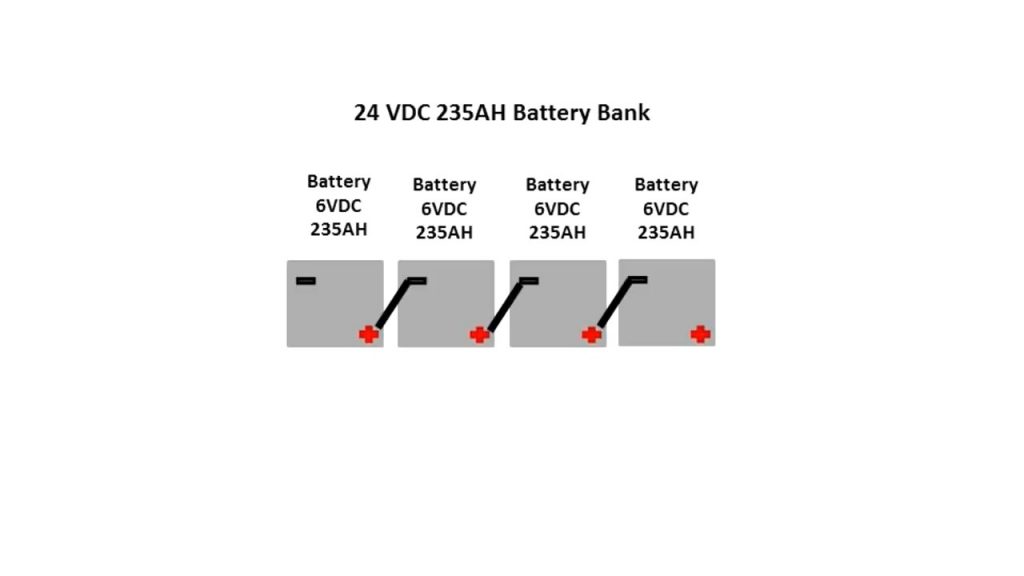 When picking a spot to locate your panels, you have to consider that the sun will be lower towards the horizon in the winter, and closer to directly overhead in the summer. Building a system that actually tracks the sun would be best as the panels are always pointed directly at the sun.
Also mount your panels as close as possible to the batteries. This is because the longer your wire run, the more energy is wasted due to resistance. You also need to select the proper gauge wire to transmit the power from the solar panels to the batteries.
Between the panels and the batteries is the charge controller ,it controls the charge of the batteries and make sure that the batteries get the proper voltage that they need and that they don't get overcharged.
Here we use an MPPT Solar Charge controller. If your solar panels are wired in series and connected to an MPPT charge controller, the voltage adds up ,thus giving us enough voltage to charge the batteries. An MPPT charge controller can charge your batteries nearly the entire time The sun is out. If your panels are far away and you want to save money and wiring, then the MPPT charge controller is way more efficient than PWM.
The first step in making your solar system safe is making sure that there's an automatic and a manual way to disconnect power in each segment of the system. Starting right here at the battery box we have a 300 amp manual switch to kill the power from the batteries to the inverter as well as a 200 amp fuse that will blow automatically.
Another component to the safety is the grounding. Grounding your system is quite easy to do. So get an eight foot grounding rod and drive it into the ground. Then pick up some copper grounding wire, some lugs and connect the frames have all the panels in any metal components in the system including the charge controller and the inverter.
DIY Video : How to build a Homemade Atmospheric Water Generator . Produces/Extracts Distilled Water from the air

This video shows the build of a Homemade DIY Atmospheric Water Generator!.ThisUnit pulls Pure 'distilled water' straight out of the air. This simple design pumps near freezing water thru a long section of copper coil. Coil becomes very cold and dew (condensate) forms on the coil. The dew is then caught by a drip-pan located beneath the coil.This unit has the added benefit of dehumidifying the air.I used only aluminum and copper in this version. main thing with these is to keep the coils clean. if coils are cleaned after each use, the water generated is 'distilled water.

Watch the DIY Homemade Atmospheric Water Generator Build Video here

Cool DIY Video : How to build an Underground Survival Shelter from an Old Shipping Container -Step by step Video Instructions

This 3 part video series shows you how to safely build an Underground Survival Shelter from a 20ft shipping container.This is a great step-by-step example of how a 20 foot container can be buried, reinforced, and have utilities added to make a shelter that has everything you'd need in an emergency, and double as a cellar for food storage.Whether you'd like a cellar, prepper space, a 'man cave' or just an addition onto your home, shipping containers are quite a good start for above or below the ground shelters or rooms.

Watch the DIY Underground Shipping Container Survival Bunker build Videos

DIY Video: How to build an efficient rocket mass heater from scraps for your garage

This Video series shows the build of an efficient rocket mass heater from scraps for your garage.This  rocket mass heater is the ultra high efficiency, mass based, thermal storage, chambered combustion, for internal energy dissipation, causing time released electromagnetic radiation, and conduction of energy, heating system.Not only do they provide your home with wonderful warmth but they can also heat your home at a fraction of the cost and without leaving that harmful carbon footprint. Best of all, you can build one yourself, and this is an amazing way of helping keep your home off the grid and self-sufficient.
---